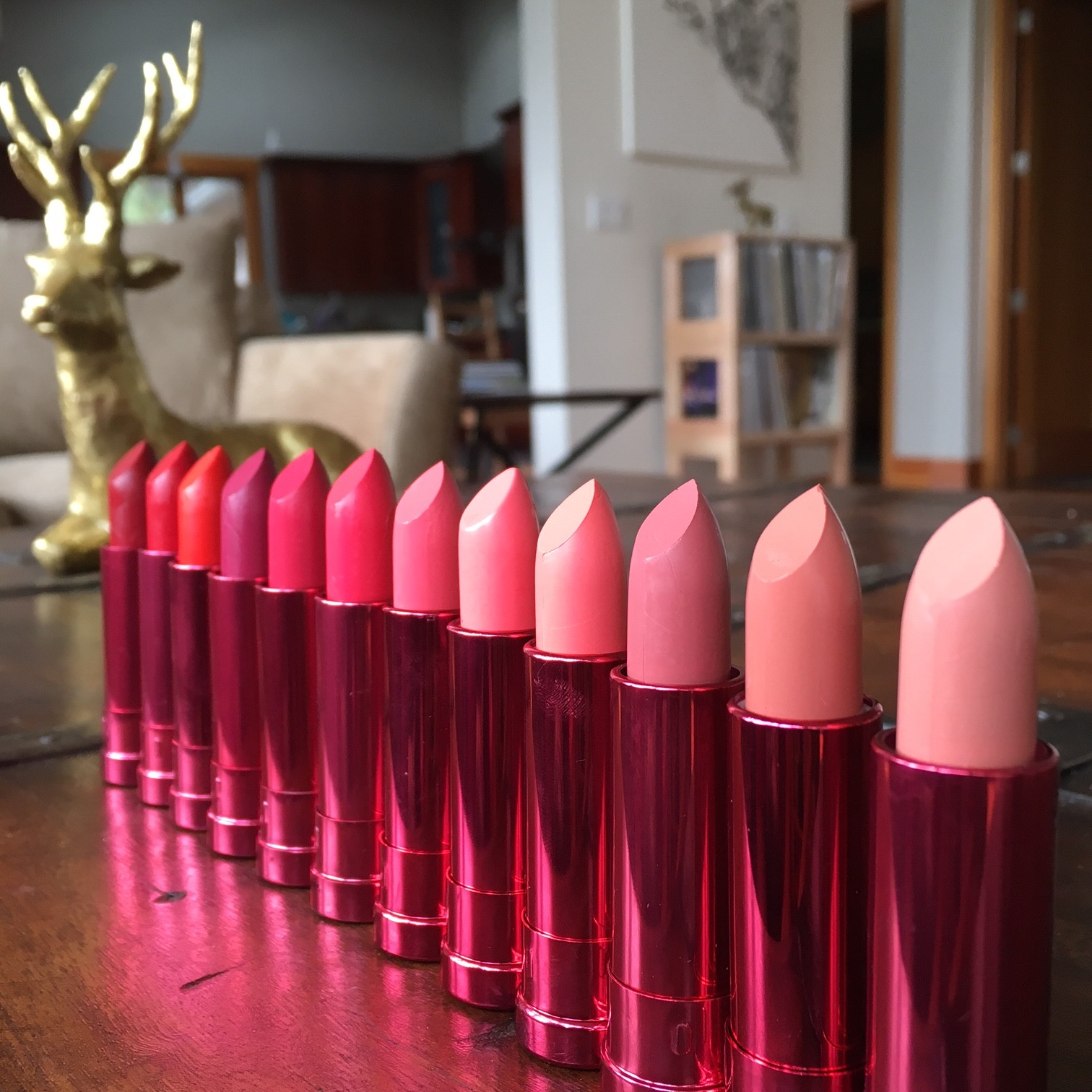 Ready for some crazy food for thought? The average woman eats ~6 pounds of lipstick in her lifetime! Gah, and many lipsticks on the market today contain scary, unhealthy ingredients like toxic metals, including lead and cadmium! If that doesn't make you wanna seek out some non-toxic lippies STAT, I don't know what will.
One of my favorite all-natural beauty brands, 100% Pure, has a luxurious line of Fruit Pigmented Pomegranate Oil lipsticks that are divine! They smell hella yummy, they're creamy and moisture-rich, highly pigmented, and 100% vegan and cruelty-free.
They are some of the most comfortable lipsticks I've ever worn. They glide on effortlessly and smoothly, and they feel light and moist. They do tend to bleed a bit, so I'd definitely recommend using a lip liner to sort of lock things down. Also, some of their bolder, brighter shades tend to stain the lips a bit, which I actually really like. 🙂
Ok, before I dive into swatchy swatches, let's quickly peep their gorgeous packaging!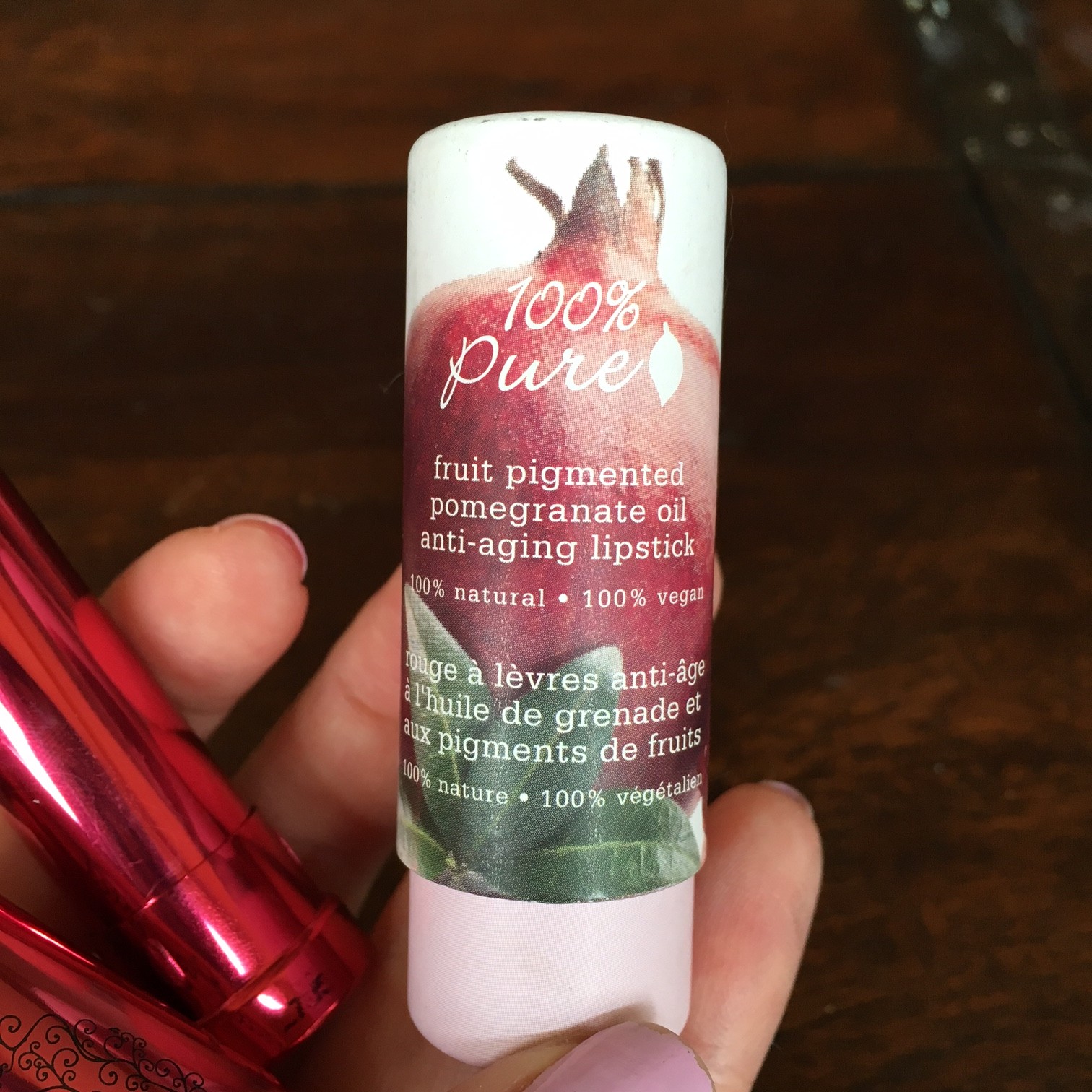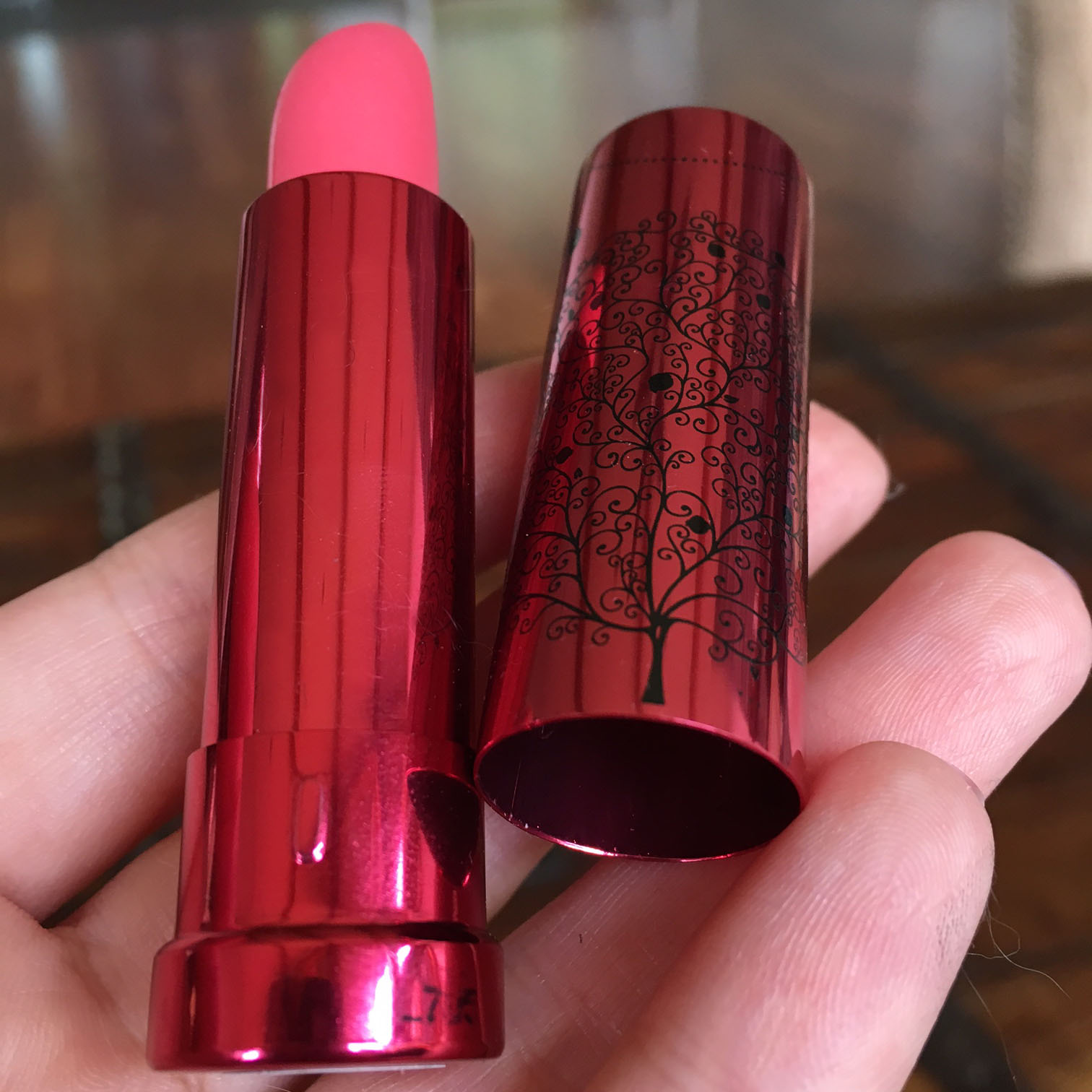 SO pretty, right? Like, can I BE that tube of lipstick for a day? All shiny and swirly and pink!
OK, now let's talk about the super pure ingredients in these that are true to the brand's name.
Ingredients (100% vegan): Butyrospermum Parkii (Organic Shea Butter)*, Punica Granatum (Organic Pomegranate) Seed Oil*, Theobroma Cacao (Organic Cocoa) Seed Butter*, Extracts of Prunus Cerasus (Organic Cherry) Fruit*, Prunus Domestica (Organic Plum) Fruit*, Vitis Vinifera (Cabernet Grape) Fruit*, Rubus Idaeus (Organic Raspberry) Fruit*, Vaccinium Angustifolium (Organic Blueberry) Fruit*, Rubus Fruticosus (Organic Blackberry) Fruit*, Prunus Persica (Organic Peach) Fruit*, Prunus Armeniaca (Organic Apricot) Fruit*, Solanum Lycopersicum (Organic Tomato) Fruit/Leaf/Stem*, Punica Granatum (Organic Pomegranate)*, Cacao (Organic Chocolate)*, Rosa Centifolia (Organic Rose Petals) Flower*, Lavandula Angustifolia (Organic Lavender) Flower/Leaf/Stem*, Theobroma Cacao (Cocoa) Powder, Tocopherol (Vitamin E), Sodium Ascorbate (Vitamin C), Euphorbia Cerifera (Candelilla) Wax, Rosmarinus Officinalis (Rosemary) Leaf Extract * Certified Organic
This list basically reads like a dessert recipe! Loooooooove how nature can yield such yummy beauty products that are vibrant, beyond swoon-worthy, and completely free of toxins.
Eye (and lip) candy time!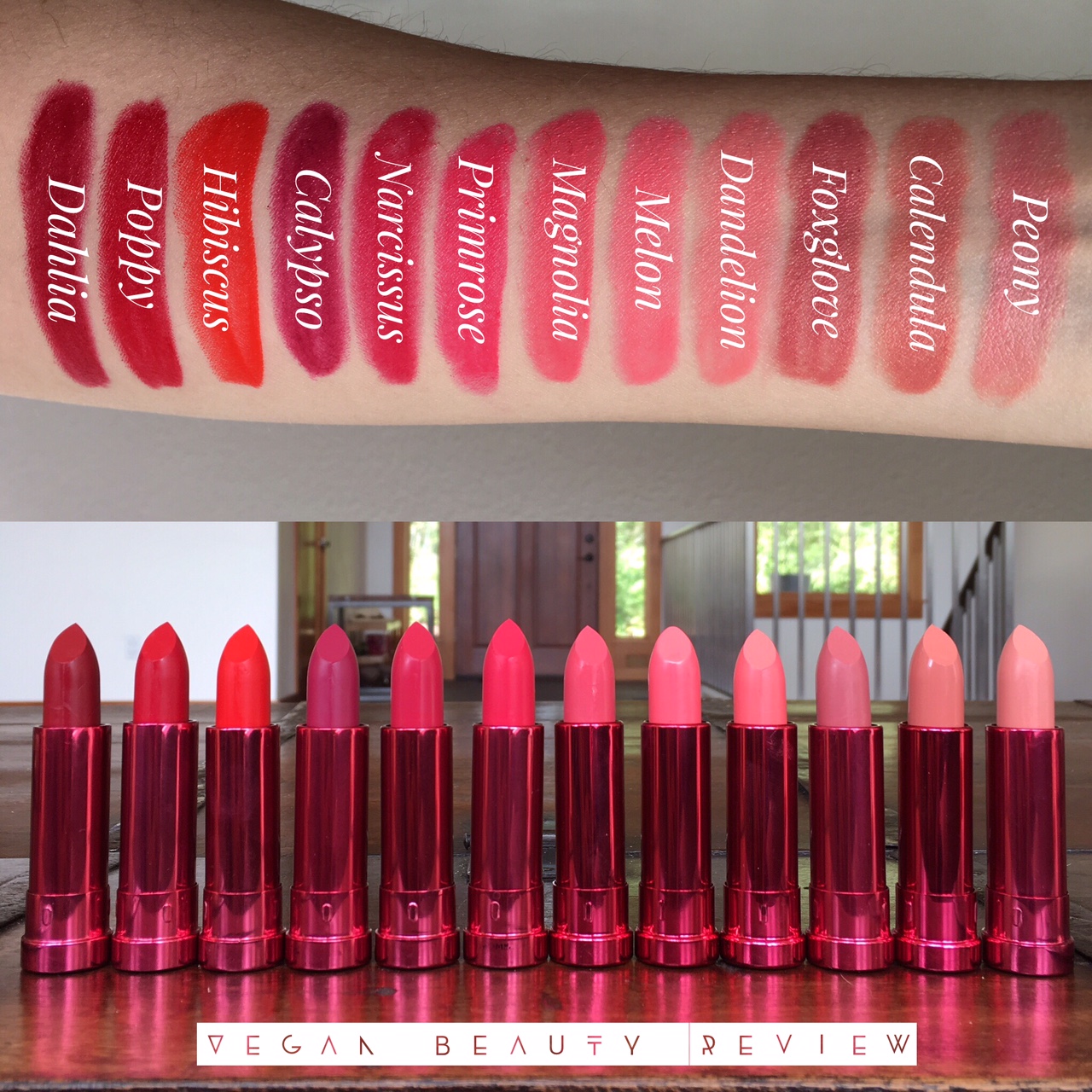 100% Pure's Fruit Pigmented Pomegranate Oil Anti-Aging Lipsticks:
Dahlia – deep burgundy red
Poppy – classic, bold red
Hibiscus – bright, red-orange
Calypso – deep purple-y, berry red
Narcissus – rich pink-red
Primrose -bold, bright pink
Magnolia – vibrant, mid-tone pink
Melon – bright, baby pink
Dandelion – bubble gum pink
Foxglove – earthy rose
Calendula – pinkish brown nude
Peony – pink nude
Which shade is your fave?
100% Pure's Fruit Pigmented Pomegranate Oil Anti-Aging Lipsticks are $28 each and can be purchased at 100% Pure stores around the country and online at 100percentpure.com.
Also, heads up: coupon code VEGANBEAUTY20 at 100percentpure.com saves you 20% off your entire order!
Products were provided for consideration. Post contains affiliate links. Opinions are my own.

About Sunny
(Sunny's Profile)
Longtime vegan, hardcore compassionate beauty junkie, serious cake aficionado, and lover of all things floofy and sparkly! If there's something in particular you'd like me to review, drop me a line at [email protected].
You can also find me on Facebook, Instagram, Twitter, YouTube, and Google +.
Filed in: vegan makeup
Tags: 100% pure • cruelty-free lipstick • cruelty-free makeup • vegan lipstick • vegan makeup