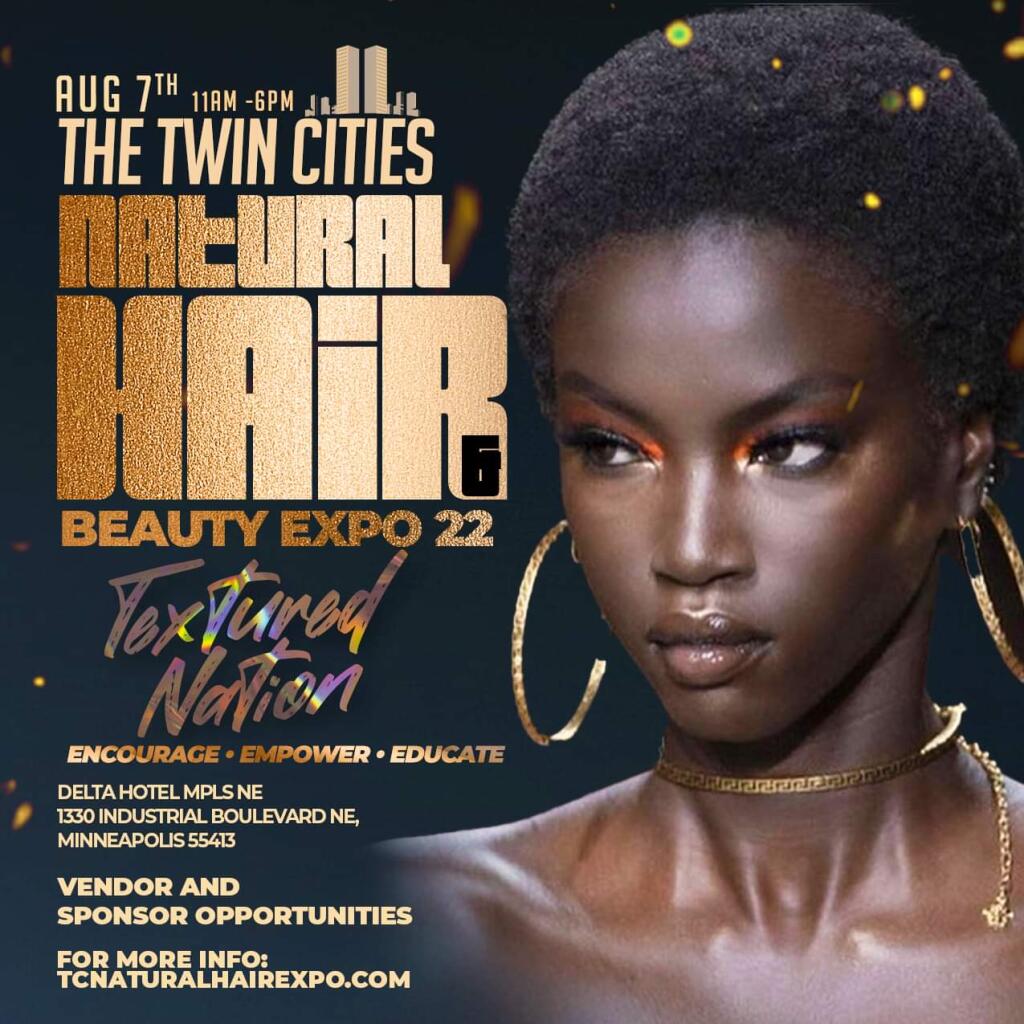 The Twin Cities Natural Hair and Beauty platform was designed to promote financial wealth, highlight social equity, while transforming natural hair and beauty narratives.
Minneapolis, MN – April 7, 2022 – In relation to local and national racial disparities, the CROWN Act, which stands for "Creating a Respectful and Open World for Natural Hair", holds special meaning for the team at the Twin Cities Natural Hair & Beauty Expo. As professional Black women living in Minnesota, they are familiar with having to navigate between corporate society and embracing culture, a space where women often feel less free. The scrutiny behind wearing natural hair in work or educational environments often comes with being labeled as "unprofessional." The CROWN Act boldly proclaims this as simply "Not True!"  No one should be denied educational or employment opportunities for wearing their hair in it's natural, authentic state or protective styles. 
The Twin Cities Natural Hair & Beauty Expo is an annual celebration of culture, which provides BIPOC entrepreneurs and businesses an opportunity to market their products and services to thousands of attendees. The expo cultivates social enterprise and ethnic inclusion.
Since it's inception in 2017, the Twin Cities Natural Hair & Beauty Expo has consistently gained national attention, spotlighting the underrepresented communities of color within the Minneapolis/St. Paul region. This expo quickly became the largest natural hair & beauty symposium in the Upper Midwest. Striving to influence ethnic beauty, culture and entrepreneurship in their region, their efforts have been highly supported locally, and nationally. Each year, consumers and guests travel from across the country to attend the expo, increasing revenue for local BIPOC businesses and expo vendors. 
Between 2010 and 2018, the African American population was the fastest growing racial group in Minnesota, which saw 36% growth. In 2016, Tephanie Delaney, the Co-Founder of The Twin Cities Natural Hair & Beauty Expo, recognized the rapid growth in this demographic and created a social networking hour. "I was working in a corporate environment at that time. I would wear my hair in cornrows on the weekends but come Monday, it seemed more acceptable to wear my hair straightened," Tephanie states. The Twin Cities had began embracing multiculturalism, but there were few opportunities for women of color to freely embrace and don their natural tresses. Tephanie wanted to create an inviting space for Black women to embrace and accept their hair. "The event exceeded my expectations. Initially, I expected 100-150 women to participate. It ended up being around six hundred attendees and my mind was blown, " says Tephanie. 
It was within that time frame where she met Kelley Eubanks. Kelley is a longtime advocate for natural hair in the workplace. The pair agreed the Twin Cities was ready to celebrate "Textured Hair", so they joined forces and the Twin Cities Natural Hair and Beauty Expo was birthed. Their mission was to create a forum to assist in changing historical narratives surrounding natural hair and beauty perspectives. Kelley explains, "I was seeing the momentum around self-care increasing, as well as the conversations about hair. I had been educating youth on loving their hair for years. Now, people are taking the time to educate themselves on embracing and caring for their natural hair. The biggest thing for me is transforming the narrative. Dispelling the myth that "our" hair is unkempt hair, when good hair has nothing to do with texture. Good hair is healthy hair."
It was not long before this duo became a dynamic trio. After the launch of her Haircare product line at the 2017 Expo, Briana Cress, a local salon owner and master stylist, joined the planning team in 2018 as a lead on the development committee to support the vision, while providing a hairstylist's perspective and expertise.
As a hair professional in the era where embracing the Natural Hair Movement was once again becoming a major thing, Briana has come across many women facing the hard decision between maintaining their so-called "Corporate Image" or embracing their natural selves. "I've seen firsthand how this crossroad can cause stress and anxiety in regard to how Black women feel they will be perceived…they feel suppressed or worry about their hair being the cause of contention in the workplace," says Briana.
A recent study showing race-based hair discrimination starts as early as five years old and lasting throughout a person's lifetime, this gives further importance to events such as the Twin Cities Natural Hair & Beauty Expo. Although the primary objective was to celebrate textured hair for women, it soon expanded to include a Men's Corner. This section is designated for talented barbers and men to feel encouraged in their own natural hair journey and feeling supported by the CROWN Act reinforces this impact for both men and women. 
The Twin Cities Natural Hair & Beauty Expo is now open for registration.
ABOUT THE TWIN CITIES NATURAL HAIR & BEAUTY EXPO
The Twin Cities Natural Hair and Beauty Expo (TCNHE) will be held Sunday, August 7, 2022, at Delta Hotel Minneapolis. Participants can expect a day of enjoyment while being encouraged, empowered, and educated on topics of self-care, diversity, and inclusion, from industry experts. Vendor and sponsor opportunities are still available. 
Each year this event provides a beautiful, positive, and inviting atmosphere filled with fun and informational sessions on health, wellness, hair, beauty, fashion, make-up, financial wealth and more, covering topics that impact our culture as well as the community. In addition to vendors, we have giveaways, guest speakers, entertainment, and swag bags.
Media Contact
Company Name: Twin Cities Natural Hair & Beauty Expo
Contact Person: Tephanie Delaney
Email: Send Email
Country: United States
Website: TCNaturalHairExpo.com