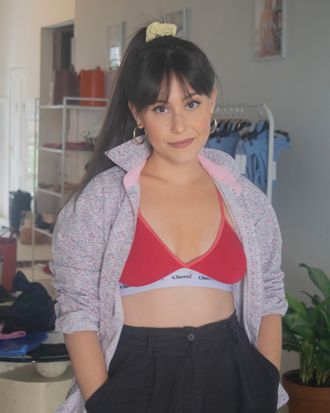 Photo: Courtesy of Madeline Ritaccio
It is notoriously difficult to be sustainable in the fashion industry, and as entrepreneur Madeline Ritaccio attempted to make ethical decisions in her fashion choices, she became increasingly disillusioned. Brands claiming to be environmentally forward were not, and shopping fast fashion was almost unavoidable. In 2019, she decided to take matters into her own hands, launching her own shop, SENSE of SHELF. The online re-seller highlights eco-friendly, BIPOC, and size-inclusive brands. But, rather than merchandising a label based on their company mission, SENSE of SHELF evaluates each product individually– in order to create the most transparent shopping experience possible. Ritaccio hopes for her site to provide a platform for brands that are inclusive, equitable and engaged. She nicknames her customers "Bold Babes" because SENSE of SHELF believes that deciding to shop conscientiously is "pretty fucking punk rock." The Cut spoke to Ritaccio about the ethical brands she loves most, baking, and using her dad's clothes for statement pieces in her outfits.
What's one piece from the site that's especially meaningful to you?Anything from Yam holds a special place in my heart. The founder, Morgan Thomas, was one of the first brands to sign on wholeheartedly with SENSE of SHELF and our long-term vision. Even in the first few months of business back in 2019, I pitched a "shop-in-shop" concept for the holidays and Morgan was a huge supporter. I love the Posy bracelet made with thrifted acrylic pearls and a blue millefiori heart bead.
How would you describe your style?
I've always mixed the soft with the hard — a cute wrap dress from Whimsy and Row with beat up Doc Martens, or an old band tee with Shroom Spoon's Juno Pearl Necklace. I "borrow" clothes from my dad a lot and style them with what we carry on SENSE of SHELF. The floral oxford I'm wearing in my photo is an old Liberty shirt of his, which I paired with a Triangle Bralette from Cherri that's on the site.
How do you thank someone for a gift?
I love to bake. If I love you, I've baked for you. A big gift probably deserves a homemade pie. A smaller gift probably earns you cookies and a handwritten note.
What would you never wear?
I'm not sure I have an answer to this. I've had a bowtie phase, purple hair phase, there was a time in high school I kept drawing a heart on my cheekbone with gel pens. A particularly embarrassing time, I wore a Velcro shirt to a middle school dance, and then of course there was the college formal when I wore a dress with shoulder pads that made me look like Jafar from Aladdin (not self-proclaimed, I was told this, repeatedly). There's not much I wouldn't wear!
What's your dream vacation?
I love traveling, and there is a lot of the world I have yet to see, but nothing beats a still night on Lake Placid with a belly full of s'mores.
What's a good book on your coffee table right now?
WET: The Magazine of Gourmet Bathing.
Last show you binge-watched?
Never Have I Ever.
What's your guilty pleasure?
Grease 2. Yes, the sequel.
Secret to hosting a good party?
Non-alcoholic options!
What is a trend that you like right now?
Outfit repeating! I love the "same top, styled five ways" content trending right now.
One you don't understand?
Fast-fashion haul content. If you're in a place of privilege to throw around $100-$200 for the sake of making a TikTok (as opposed to those that shop fast fashion because that's what is within their budget), then you're able to opt for fewer, better items.
Favorite restaurant in New York?
Transparently, I go out to eat very rarely as I'm on an entrepreneur's budget, but lately I've been craving Suzume (on Lorimer in Williamsburg). Their bok choy and pea-shoot salad is a must-have.
What's the one thing you could eat every day for the rest of your life?
Pan con tomate.
Shoes you wear most often?
I've had the same Artemis Kilim Smoking Shoes for over ten years. I purchased them in Cambridge, Massachusetts, and take them to get fresh soles every few seasons. Once you break them in, they are the most comfortable shoes you will ever own. Each is one of a kind.
What are five things that bring you the most joy?
Shop Zuck is a brand I'd love to see on SENSE of SHELF one day. They 3-D print their jewelry using biodegradable materials, then hand-paint each piece. I personally have a necklace from their limited-edition collaboration with CHARLIE BEADS, but have my eye on the Billy Earrings for my next purchase.
I'm an awful knitter but I find it meditative, so my family has to put up with my wonky homemade scarves and sweaters. One lopsided Julia Sweater comin' up!
If you enjoy baking, please follow the Dusky Kitchen, a Filipino-American and woman-owned small business. They occasionally have treat boxes you can order and pick up locally, but I can never sign up in time! The Sunflower Cracker Ube Magic Bars are on my "recipes-to-try" list, but it's just been too hot to bake in my apartment this summer.
I'm super intrigued by the Lomi composter by Pela — apparently it composts food waste in as little as four hours? The magic of science, y'all!
I have sensitive skin and I am prone to stress rashes. I'm obsessed with the Aloe Sheer Tint from 14e cosmetics. It smells and feels like a spa treatment because of the lavender oil. Even better, they use aloe vera as the primary ingredient instead of water like most other cosmetics. In the rush of getting ready for the first Zoom call of the day, putting this on centers me.