Out of all the jewelry trends, the bohemian style is one of the strongest and widespread trends there is.
The trend for bohemian fashion reached its worldwide popularity during the early 2010s thanks to the Coachella Festival. While trends generally last for two to three years after their popularity peak, the bohemian style is very much still alive at the present.
And what better way to spruce up your wardrobe with bohemian-inspired jewelry? From the all-natural nature-inspired pieces to modern bohemian jewelry —here are six bohemian jewelry styles that will make your outfits pop:
Leather and Feathers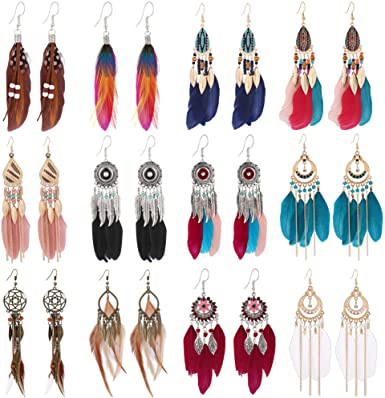 The beauty of bohemian jewelry lies in the diversity of the materials used to make it. It shies away from the usual metal and gems jewelry which makes it awesome for people who are looking to break the monotony of their outfit.
One of our favorites is the bohemian staple of leather and feather combination. This style is the peak of bohemian fashion and jewelry. The heavy look of leather in contrast to the light and playful air of feathers goes incredibly well.
This combination works great on statement and layered necklaces. You can follow the color scheme of the leather (natural brown hues) if you want to keep things lowkey, or you can embrace the full festival of colors from the feathers.
Styling this particular design can be tricky but if you're reaching for a piece of jewelry like this, then why not lean towards it fully? Pair your leather-feather necklace with a flowy maxi dress and a cute pair of strappy sandals.
Natural Stone Ring
There's no true order when it comes to bohemian jewelry. In fact, this style insists that beauty is often found in chaos and imperfections.
That's why in a lot of bohemian jewelry, you'll find natural stones that are only partially polished. The innate design of the material is left as the focal point of the piece. This makes this particular design perfect for rings where the stone is the center of attraction.
In boho-style rings, precious and semi-precious stones are only roughly shaped to a certain size required by the design. The ring band for it is usually minimal too. You'll find a lot of boho rings with a large stone façade set on a thin gold or silver band. This makes it ideal if you want to wear or stack multiple rings.
Beads Galore
This particular bohemian style cuts close to another jewelry design, Y2K. The only difference is bohemian beans are more on the natural side with colors that mimic nature.
Bohemian beads are wonderful for necklaces and bracelets. A styling hack that we love is to use bead necklaces as bracelets. Just loop the necklace around your wrist a couple of times to create a lovely layered accessory.
Jewelry made out of beads is a great way to add color to your outfit. If you want bohemian beads jewelry that will go on every outfit that you could possibly think of, look for the ones with earth tones mixed with white or gold. These are neutral colors than can be paired with anything. But don't be afraid to embrace the colors! You'll be surprised at the kind of style that you can produce.
Wooden Jewelry
Jewelry made out of wood is such an underrated niche of design. If you're looking for wooden jewelry, then bohemian style is the way to go.
Bohemian wooden jewelry is intricate and very dainty. They usually feature geometric shapes and elements of nature like stars, flowers, and even landscapes. If you want a piece of jewelry that feels very personal, hand-carved wooden jewelry will not go amiss.
Styling wooden jewelry can be confusing for some. But the general rule is to always wear light clothing with it. Wooden jewelry will struggle to fit with leather and dark shades of denim. This makes wooden jewelry the perfect spring-summer accessory.
Old School Friendship Bracelets
If you shudder at the thought of your middle school plastic friendship bracelets, then you're not alone. However, as old trends come back in a fresh and modernized way, you might want to hear us out about taking this beloved classic back.
Friendship bracelets are the bread and butter of bohemian fashion. They perfectly mirror the lifestyle that this trend is about —love, peace, and being carefree. But don't fret because today's friendship bracelets are much more stylish that you'll actually wear them because they look great and not as an obligation to your friend.
Bohemian friendship bracelets are made from a wide range of materials. This covers everything from woven cloths to gemstones and metals.
The best thing about making bohemian friendship bracelets is that you can get one that can symbolize whatever traits or feelings that you have in the bracelet. A lot of materials used in bohemian jewelry making carry different meanings so it's up to you to choose whatever you want to convey.
Macrame Jewelry
Bohemian jewelry loves the pieces that show how much time and effort you put into it. A lot of jewelry that is under this style is handmade and it takes special skills to create.
Macrame jewelry is one of them. Colorful strings and yarns are very common materials in bohemian design. Jewelry makers take advantage of its versatility as a material to create beautiful and unique pieces that are exceptionally hard to make using metal. As a result, you'll have distinct pieces that show love and care all while being beautiful.
This bohemian style works best for statement earrings and bib necklaces. We recommend choosing larger pieces that showcase the intricacy of macrame. When styling it, you can pair it with jewelry made of lighter metals that mirror the daintiness of the bohemian jewelry.
As for the outfit, keeping things casual is the key. Macrame jewelry is very fresh and playful so we suggest doing the same for your clothes. Since the jewelry itself tends to be heavily textured, keep your outfit light with fabrics that won't clash. Light fabrics like linen, rayon, and cotton will work great.